The Live Weather Engine does not include any sky and cloud textures. For optimum effect we strongly recommend you install FSX/P3D sky and cloud textures from packages such as Flight Environment X (payware) or HDEv2 (freeware) for clouds with the sky upgraded by Danny Glover, and use the Opus Live Weather Engine for the actual weather updates.
Since FSX/P3D cannot automatically load sky textures depending on your weather, you must ensure you load appropriate sky and cloud textures relevant to the weather you will be flying in prior to flight. Alternatively you can configure REX4 to run Opus after loading the relevant textures for you.
Opus Live Weather provides realistic changing weather patterns en route, detailed live weather as far as you can see.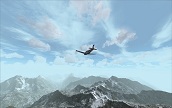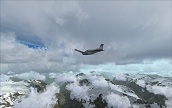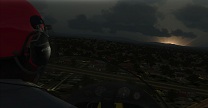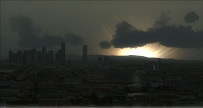 Opus Live Weather mist and fog effects using
Opus Live Weather mist and fog effects using

v2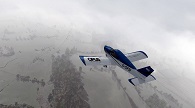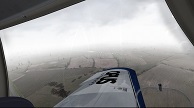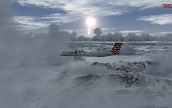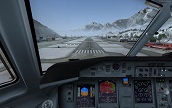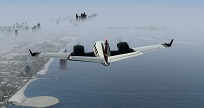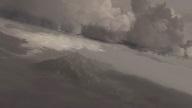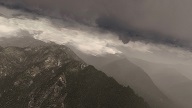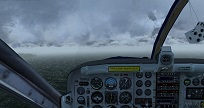 Opus Live Weather stormy weather

Opus Live Weather cloud formations in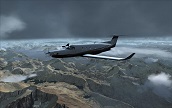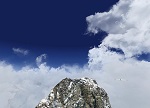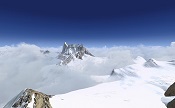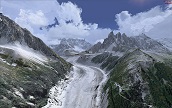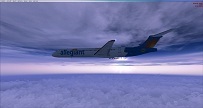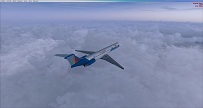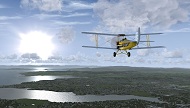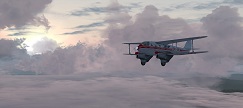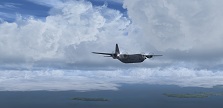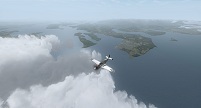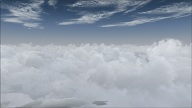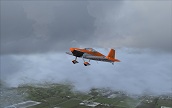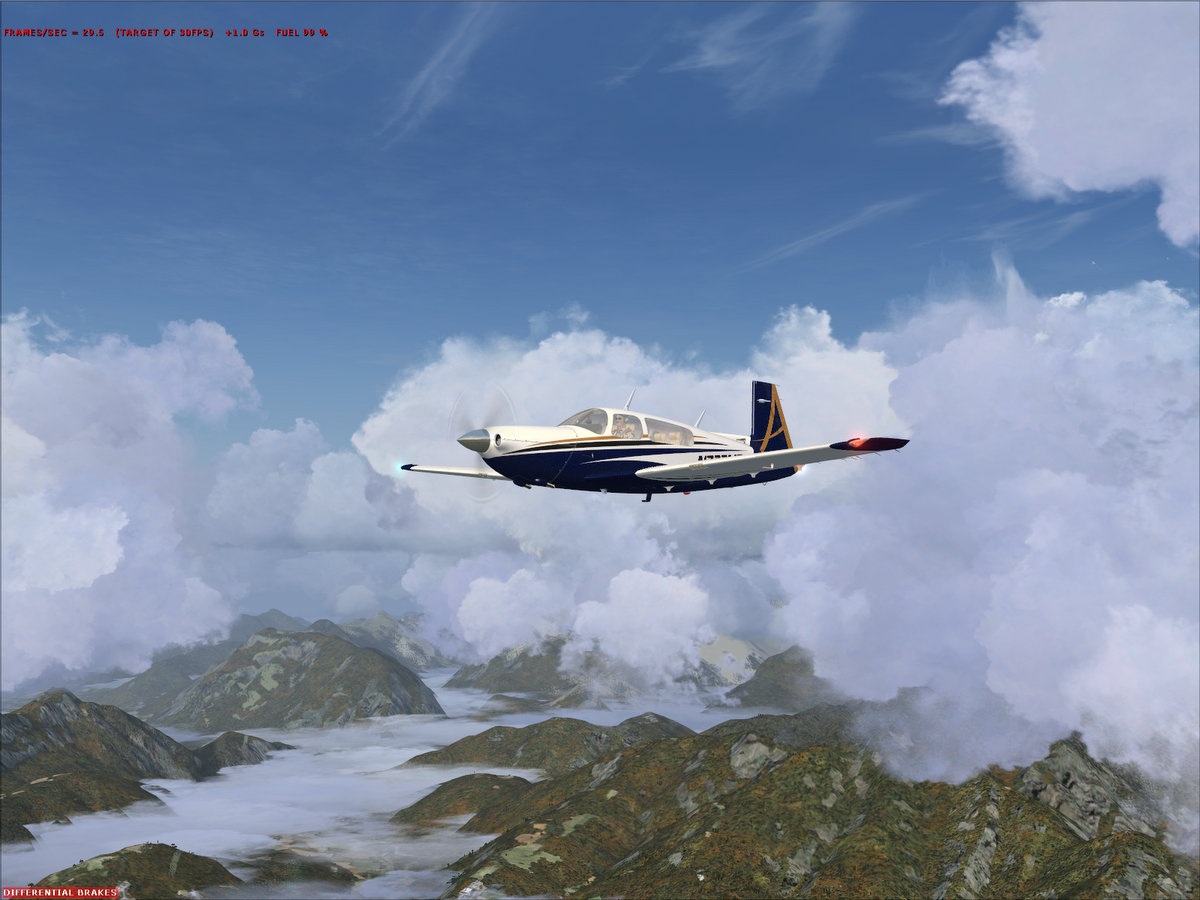 Opus Live Weather cloud formations in

v2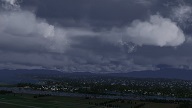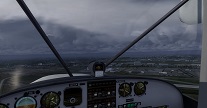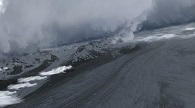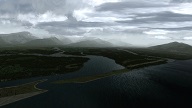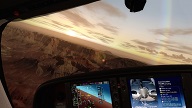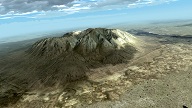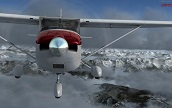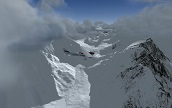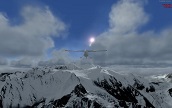 Opus Live Weather cloud shadows in

v2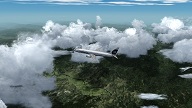 Opus Live Camera enables you to create interesting viewpoints with ultra-realistic Dynamic Head Movement or virtual cockpit camera shake options based on actual captured 3D acceleromenter data. When flying switch between views using joystick buttons and keyboard key sequences which can be assigned to individual or multiple views.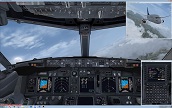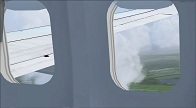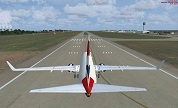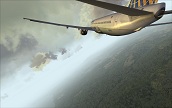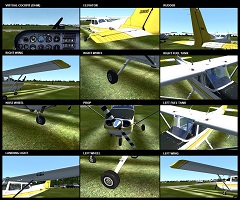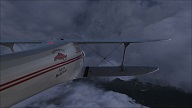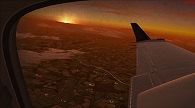 With Opus Live View you can synchronize multi-screen networked displays for off-loading scenic and exterior views using ultra high-performance IPC comms.
Photo courtesy of the Human-Centered Design Institute, Florida Institute of Technology, using OpusFSX with Prepar3D.
DHM and AHM effects

The video by John Stevens from his Mutley's Hangar review demonstrates the DHM effects, Camera transition, Landing Effects and Automatic Head Movement which are all variable and set with slider controls

OpusFSX Entire Flight Demonstration with Meteorology PreFlight

This excellent video was made by Alexis to showcase how Opus stands from the competition, bringing for the first time in FS History an authentic weather system simulation. You can see incoming bad weather as you approach a cold front, you descent into true overcast condition, depending on the conditions you will spend hours with no visual with the ground, you will have only clouds below you. Easily the most revolutionary thing to happen to the FS world for a long time!

OpusFSX Turbulence

These short videos from Johan nicely demonstrate the very realistic intelligent turbulence effects on the aircraft which are fully harmonised with the DHM accelerometer data.

From Here To There

This video from Mike demonstrates external camera views and turbulence on a fast ride to Amsterdam.

OpusFSX Weather Engine Almost Zero Visibility Demonstration

Alexis's video demonstrates the fog effect.

"I recorded this video to show you guys how fantastic this Weather Engine is. I have never before been able to get a real Overcast Condition with my FSX. The Weather Engines would try to cover the ground with Fog, but you could see through it, as this is an FS Limitation. Anyway. This airport had a pretty bad FOG limiting the visibility to only 100Meters, and no wind to blow it away, pretty much a pilot nightmare. To give an authentic Simulation of this conditions, you shouldn't be able to see the ground as you approach the airport, because of the FOG over it, if you can see the runway before penetrating the FOG Layer, then your simulation is not realistic anymore, since that's absolutely not what you would find in RW. You can't see if you're landing on the runway, or heading direct to a Residential Building until seconds from the touchdown, you have to rely on your instruments all the time. FSX never had this feeling, now with OpusFSX I Really believe they have found several ways to make it more realistic than ever, and I have recorded this video so you could see it with your own eyes."

OpusFSX with P3D v2.3 Thunderstorms

Courtesy of fiftysix, a flight showing thunderstorms at Walter Suttons with P3D v2.3

OpusFSX with P3D v2.2 Volumetric Fog

Courtesy of fiftysix, a flight around Yosemite with P3D v2.2 volumetric fog

OpusFSX with P3D v2.2 Dense Cloud

Courtesy of fiftysix, P3D v2.2 dense cloud

FSX HD OpusFSX Mist

Mobarak has posted this video showing the mist effects

FSX HD OpusFSX+REX Snowy Day

Mobarak's video showing the snow effects

OpusFSX Mist/Visibility/Snow/Clouds

Mobarak's video showing mist and snow effects

[HD] NGX Departure into the Storm

FSwakevortex's video of a Norwegian Boeing 737-800 departing into a weather front from the beautiful city of Bergen [Flesland].




OpusFSX LiveView

Tomek's video showing his OpusFSX Live View setup

OpusFSX VS ASE2012 VS REX Essential

Steadyflyer's video comparing three weather engines.

5 airports - 3 weather engines with live downloaded weather

A2A Accu Feel 2 & OpusFSX in combo

Xsimreviews review using OpusSFX camera effects and turbulent motions with AccuFeel sounds effects.